Immersion Heaters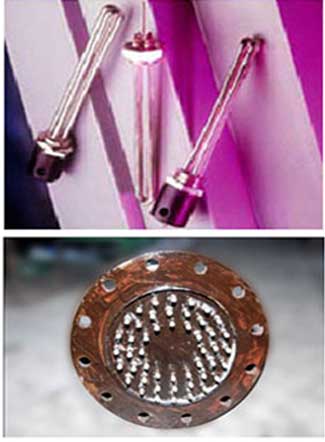 Tubular elements used for heating liquids (corrosive and non-corrosive) are known as immersion heaters. For corrosive medium, sheath of the element can be enclosed in metallic or non-metalic Element casing made of special alloy can be used for longerlife of the element.
Available in ranges of 1 KW to 4.5 KW with adaptor fittings 1" B.S.P to 21/2 " B.S.P threaded brass flanges duly nickel Chromium plated. Heaters high rating are available on request with flanged connections. The Photographs are those of water 7 oil immersion heaters simultaneously.
Applications
Air-conditioning
Pharmaceutical
Chemical
Textile
Nuclear
and many more industries.