Out Flow Heater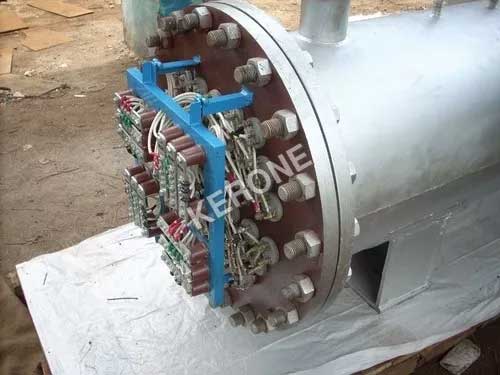 Out Flow Heater is designed to be directly welded to tank to ensure to heat up the furnace oil that comes out from the tank instantly. This is developed to heat up the fluid swiftly without any trouble. In addition to this, it also lowers down the load on the motor of the heating unit. As this is designed with renewable cartridge type heating elements and does not keep in direct contact with the oil, it can be easily replaced without worrying about the emptying the oil tank. Our company provides two different types of heaters, one is Electric and other is Electric plus Steam / Hot Water.
Features :
Designed using mild steel vessel with a flanged body
Directly bolted to the wall of storage tanks
Flameproof terminal enclosures
Flanged outlet is fixed to heaters
Unbreakable withdraw able type elements
Vented heater shrouds to prevent air pockets
Electric :
Electric Oil Outflow Heaters are equipped with unbreakable with drawable kind elements having busbars and terminals enclosed in a terminal box. Fire-proof terminal enclosures may also be fitted.
Electric plus Steam / Hot Water :
Electric plus Steam or Hot Water Heaters are well equipped with mild steel heating coils with screwed BSP flow & return connections.
ELECTRIC OIL OUTFLOW HEATERS :
| | | | | |
| --- | --- | --- | --- | --- |
| Type | KW | Fixing Flage Nominal Bore mm in | Outlet Flage Nominal Bore mm in | Immersed Length mm in |
| KerOH001 | 3 | 1004 | 251 | 71028 |
| KerOH002 | 6 | 1004 | 251 | 157562 |
ELECTRIC PLUS STEAM / HOT WATER OIL OUTFLOW HEATERS :
| | | | | | |
| --- | --- | --- | --- | --- | --- |
| Type | KW | Sq. Ft. | Fixing Flage Nominal Bore mm in | Outlet Flage Nominal Bore mm in | Immersed Length mm in |
| KerWOH001 | 3 | 12 | 2008 | 401 1/2 | 242095 |
| KerWOH002 | 6 | 12 | 2008 | 40 1 1/2 | 2420 95 |